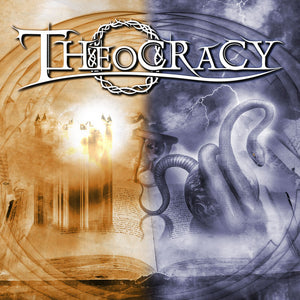 Theocracy - Theocracy (CD edition)
$999

$9.99
Tax included.
Shipping
calculated at checkout.
---
---
Theocracy - Theocracy (CD edition)
Ulterium Records 2013 - ULTCD022

Track listing
01. Prelude
02. Ichthus
03. The Serpent's Kiss
04. Mountain
05. Theocracy
06. The Healing Hand
07. Sinner
08. New Jerusalem
09. The Victory Dance
10. Twist of Fate

The self-titled debut album from Theocracy has been out of print for several years, and fans have constantly asked for a re-issue. In order to improve upon the drum machine and amateur production of the original release without losing the charm of the recordings, Theocracy drummer Shawn Benson recorded drums on all tracks, while nothing else was re-recorded. Matt completely re-mixed the album, with the mastering handled by Mika Jussila.

The result is mind-blowing. The classic tracks and the great feeling from the debut album are still there, but with a production and sound that is so dramatically improved that it feels like a completely new album.