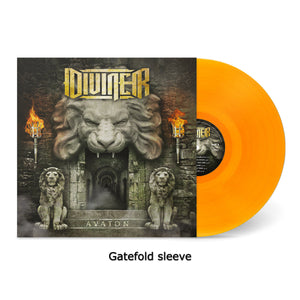 Diviner - Avaton (Clear Orange Vinyl)
$3499

$34.99
Tax included.
Shipping
calculated at checkout.
---
---
Diviner - Avaton (Clear Orange Vinyl)
Rock of Angels Records 2023

Shipping now!

Clear Orange Vinyl edition in gatefold sleeve. Limited to 200 copies.

Track listing
01. Avaton
02. Mountains High
03. Dancing In The Fire
04. Cyberwar
05. Waste No Time
06. Nemesis
07. Hope Will Rise
08. Dominator
09. Hall Of The Brave
10. The Battle Of Marathon

Product info from the label:

DIVINER is a heavy metal band from Greece formed in 2011. After their thunderous debut FALLEN EMPIRES (2015) and the amazing sophomore REALMS OF TIME (2019) that established their high-class status, they return with their third and best album so far. AVATON (2023) shows even more stunning musicianship. Inspired songwriting and uncompromised heavy metal greatness with all the elements of a real classic. Powerful, melodic, epic, dark, spiritual, atmospheric, intense, aggressive, raw and diverse at the same time. Outstanding production, dynamic sound, exceptional lyrics, addictive riffs, wonderful melodies, catchy-anthemic choruses, jaw-dropping guitar work, stellar drumming and some of the greatest, majestic and passionate vocals you've ever heard!

AVATON is a timeless breath-taking journey from the cruel dystopic world, to our deepest dreams, our upper self, searching for the true secrets of life and beyond. Full of adventure, emotion and pure magic that will steal the heart of every lustful and devoted metal fan. Welcome on board!