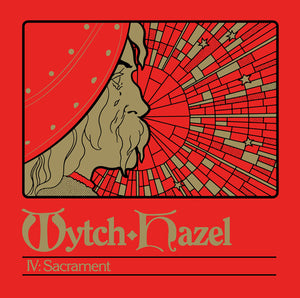 Wytch Hazel - IV: Sacrament (CD edition)
$1499

$14.99
Tax included.
Shipping
calculated at checkout.
---
---
Wytch Hazel - IV: Sacrament (CD edition)
OMEN029CD - Bad Omen Records 2023

Release date: June 2nd
Shipping now!

01. The Fire's Control
02. Angel Of Light
03. Time And Doubt
04. Strong Heart
05. Deliver Us
06. A Thousand Years
07. Gold Light
08. Future Is Gold
09. Endless Battle
10. Digging Deeper

For many all-time-great rock bands in the ascendant, the fourth album is often the point where youthful years of febrile creativity and progressive momentum culminate in a masterwork for the ages, setting the seal on an early signature sound while opening it up to future possibilities. From enchanting 2016 debut Prelude, through 2018's assured II: Sojourn, to 2020's wizardly III: Pentecost, each Wytch Hazel album has embodied that old-fashioned notion of unstoppable progress, and the glittering treasure chest that is IV: Sacrament proves eminently worthy of rising to the toughest challenge. Not just the Lancashire quartet's most classically beautiful production, but their strongest yet front-to-back collection of affecting hooks and ageless melodies.